Introduction
Thank you very much for visiting this page, we are about to introduce you the biggest festival that our community has ever organised.

Contact us at [email protected] if you wish to learn more detailed information about this event.
Lien Tam monastery is a Buddhist-cultural center, located at Moisiontie 225, 20400 Turku, about 10 kilometers north-east direction from Turku city center. The place was built by Suomen Vietnamilaisten Buddhalaisten Yhdyskunta (Finnish Vietnamese Buddhist Community). The purpose of establishing such monastery is to promote Buddhism philosophy and lifestyle to those who are interested in and also to preserve Vietnamese culture in Finland.  The monastery was built thanks to the generosity of Buddhists and non-Buddhist from Finland and all over the world, who join hands and support the monastery financially and spiritually.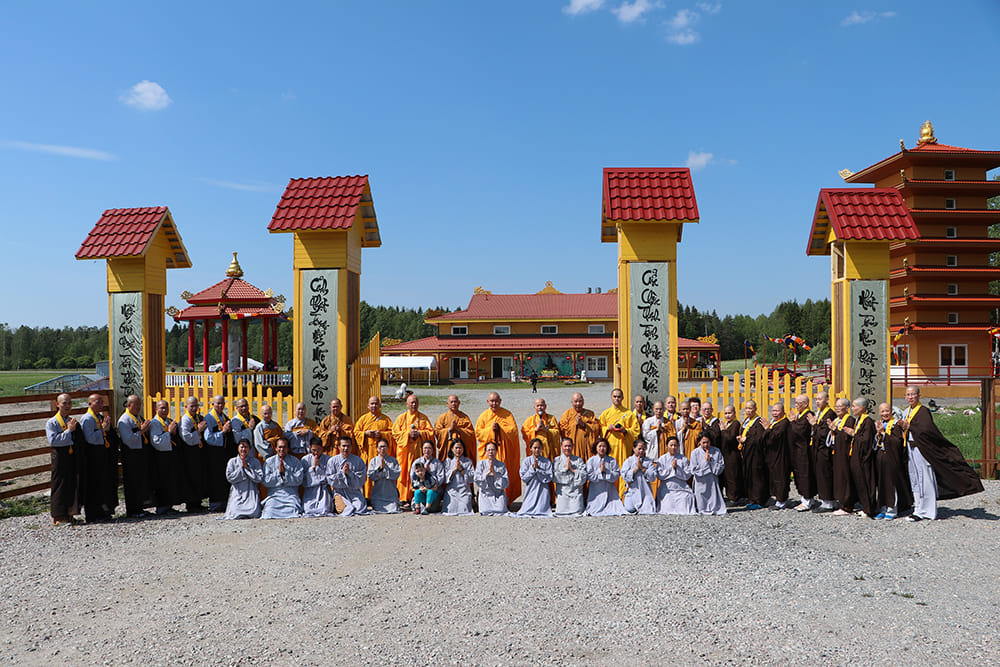 The place is where our respectable Buddhist monks live, practice and deliver the teachings the Buddha (Dharma) to Buddhist practitioners and devotees. The monastery welcomes everyone to pay a visit regardless of race, gender, religion, age...as long as one is interested in learning about his/her inner self, about meditation and other practices to reach mindfulness, etc.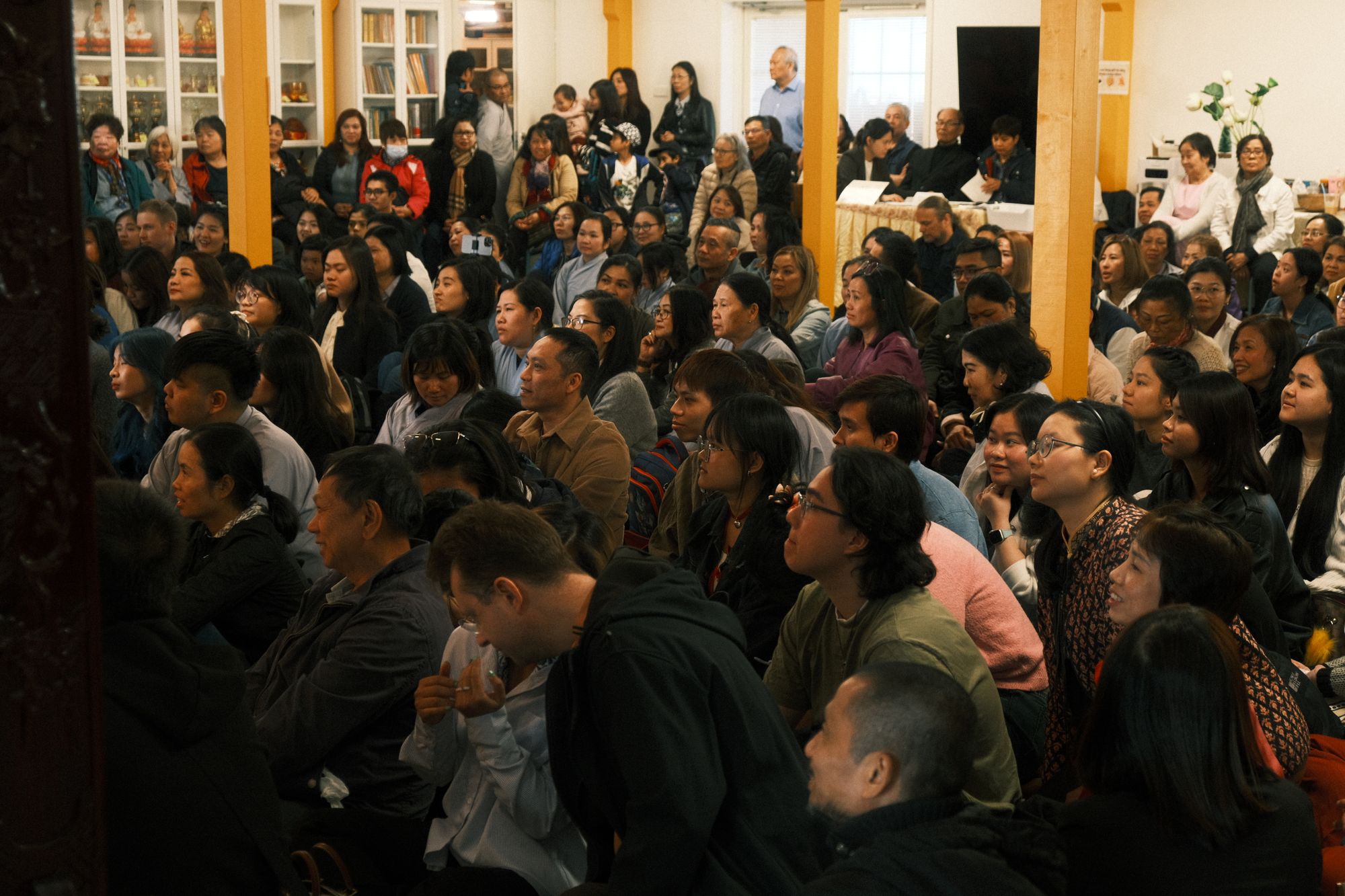 What is Vu Lan Festival at Lien Tam Buddhist Monastery?
Vu Lan Festival is among the most important festivals in the Mahayana Buddhist tradition, and it is also one of the biggest events in Vietnamese culture. This is a special occassion to remind children to show deep gratitude to their parents, grandparents and ancestors. The image of mother, which was depicted in the origin of Vu Lan festival makes many people think of Vu Lan as a mother's day.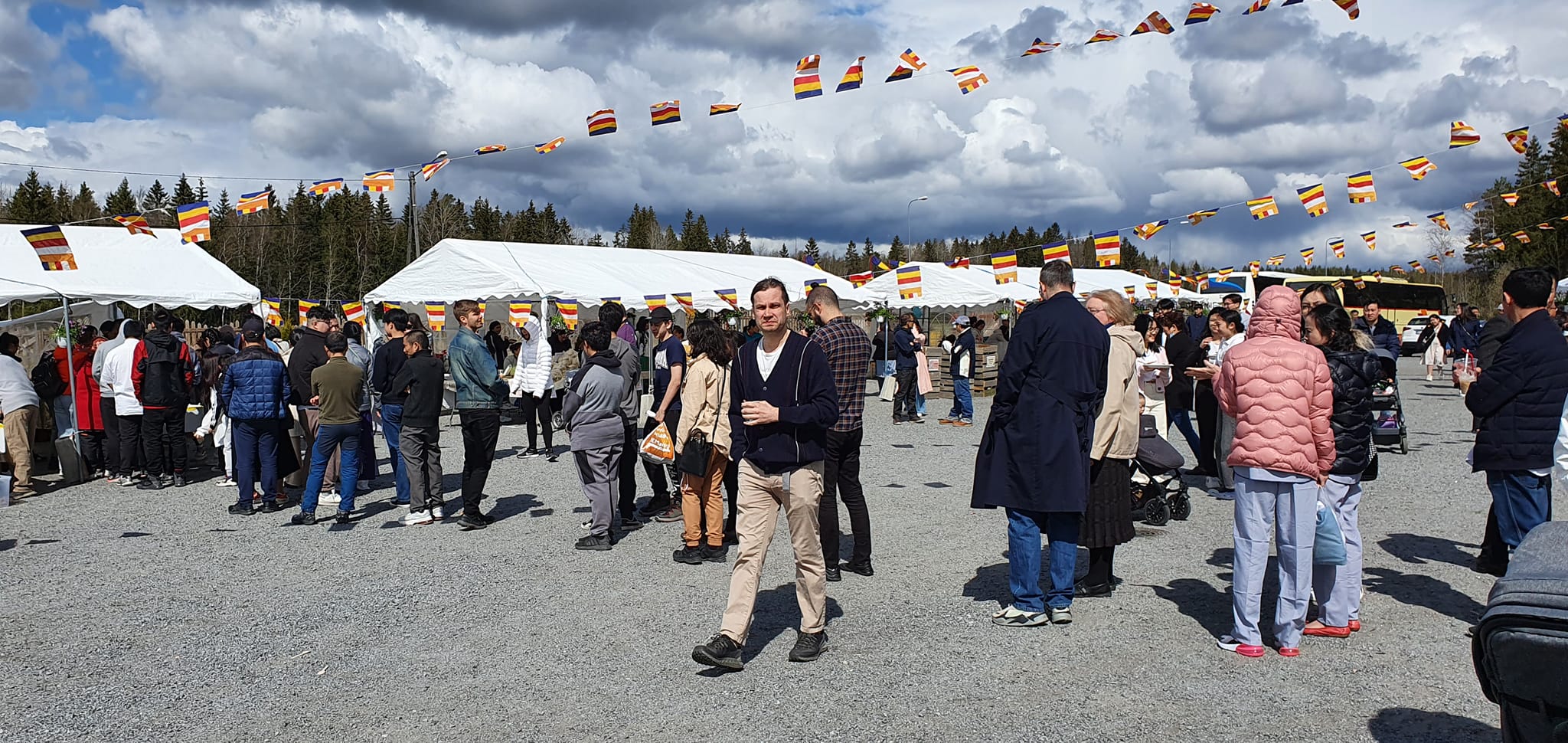 Vu Lan festival 2023 is expected to be the largest event, interms of scope, that has ever been organised at Lien Tam monastery. In addition to the rituals of the ceremony, below are what extraordinary activities to be awaited:
- Buddhist Exhibition- offers visitors rare opportunity to gaze with veneration Mandala, Buddha's Dharma books, statues and portrait picture of  Buddha, etc. This might probably be the biggest Buddhist exhibitions so far in Finland.
- Asian cuisine market square- a paradise for Asian vegetarian food lovers and also those wish to try Asian vegetarian food.
- Cultural music and dance performances- with presence of famous Vietnamese singers from the US as well as local singers and dancers.
- Free vegetarian buffet- a special treat from the monastery to all visitors at the festival.
- Celebration of our great master's 60th Continuation Day
- And last but not least, a tour around our beautiful, unique monastery.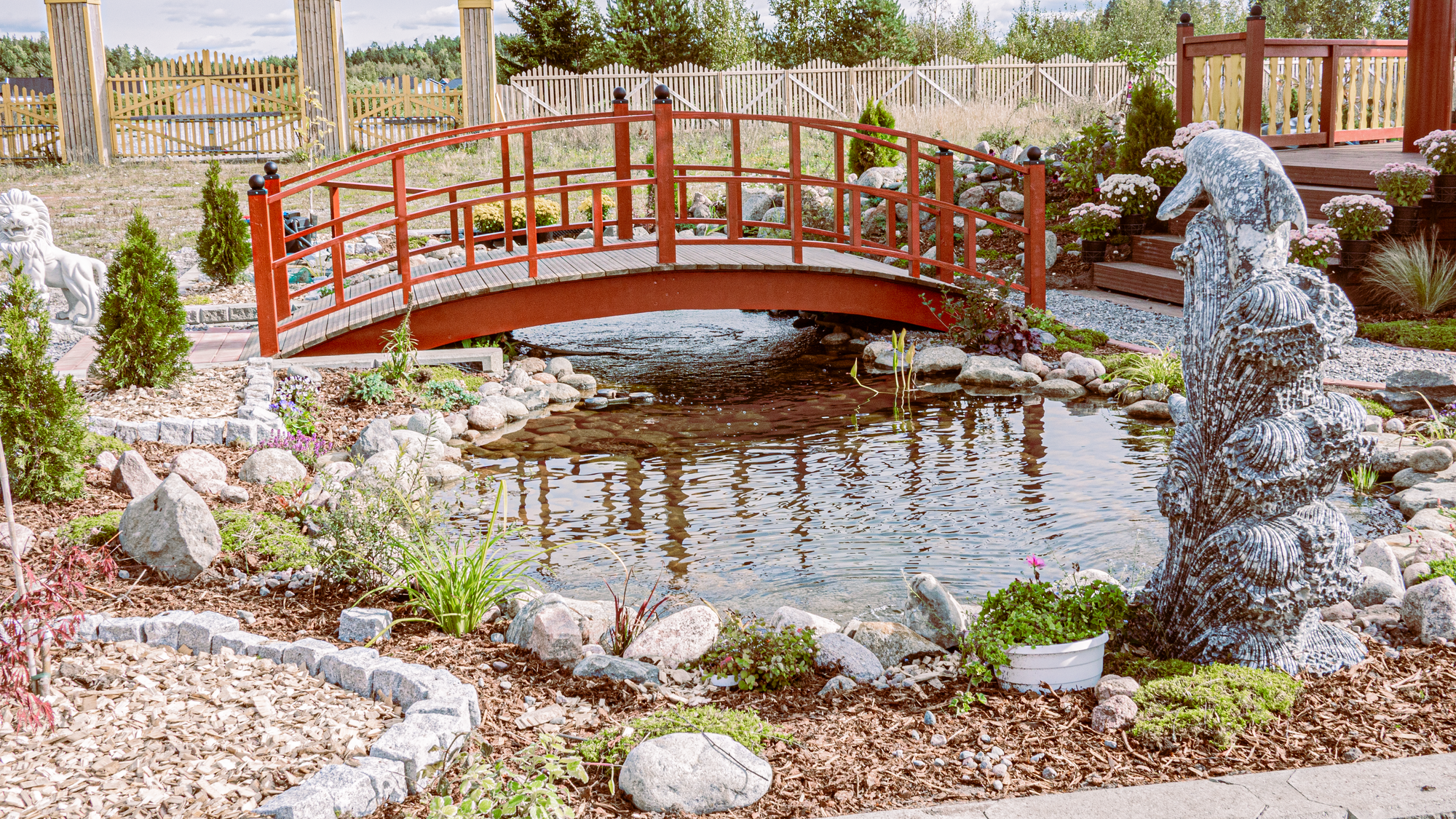 The original idea of this festival has emerged from the legend of Muc Kien Lien, one of the Buddha's ten principal disciples. One day while meditating, he saw that his mother had been suffered from hell's tortures because of unethical actions she took in her previous life. She was starving, so Muc Kien Lien summoned all his spiritual powers to make a bowl of rice. Unfortunately, it burnt to ash before his mother could bring it to her mouth.

When returning to the physical world, he asked Buddha for help. The Buddha advised him to invite a group of monks and devotees to pray for his mother's relief on the 7th full moon of the year. Their collective prayers proved to be so powerful that they released not only Muc Kien Lien's mother but also many others.

Source: travelvietnam.com
Vu Lan's Market
Every year, supporters spend their time gathering at  Lien Tam monastery and preparing foods and drinks to offer visitors and also for sales with affordable prices. The main purpose of this commercial part is not to gain profit but to offer chances for those who have lived years away from their home countries, to taste and even take away their tradtional foods and drinks, which they have little chance to enjoy in their daily life in Finland. Offerings are quite diversed from noodle soups to cakes, snacks, coffee, tea and even traditional souvenir can also be found at reasonable prices here. The profit will be used for the construction of the monastery and other charity purposes.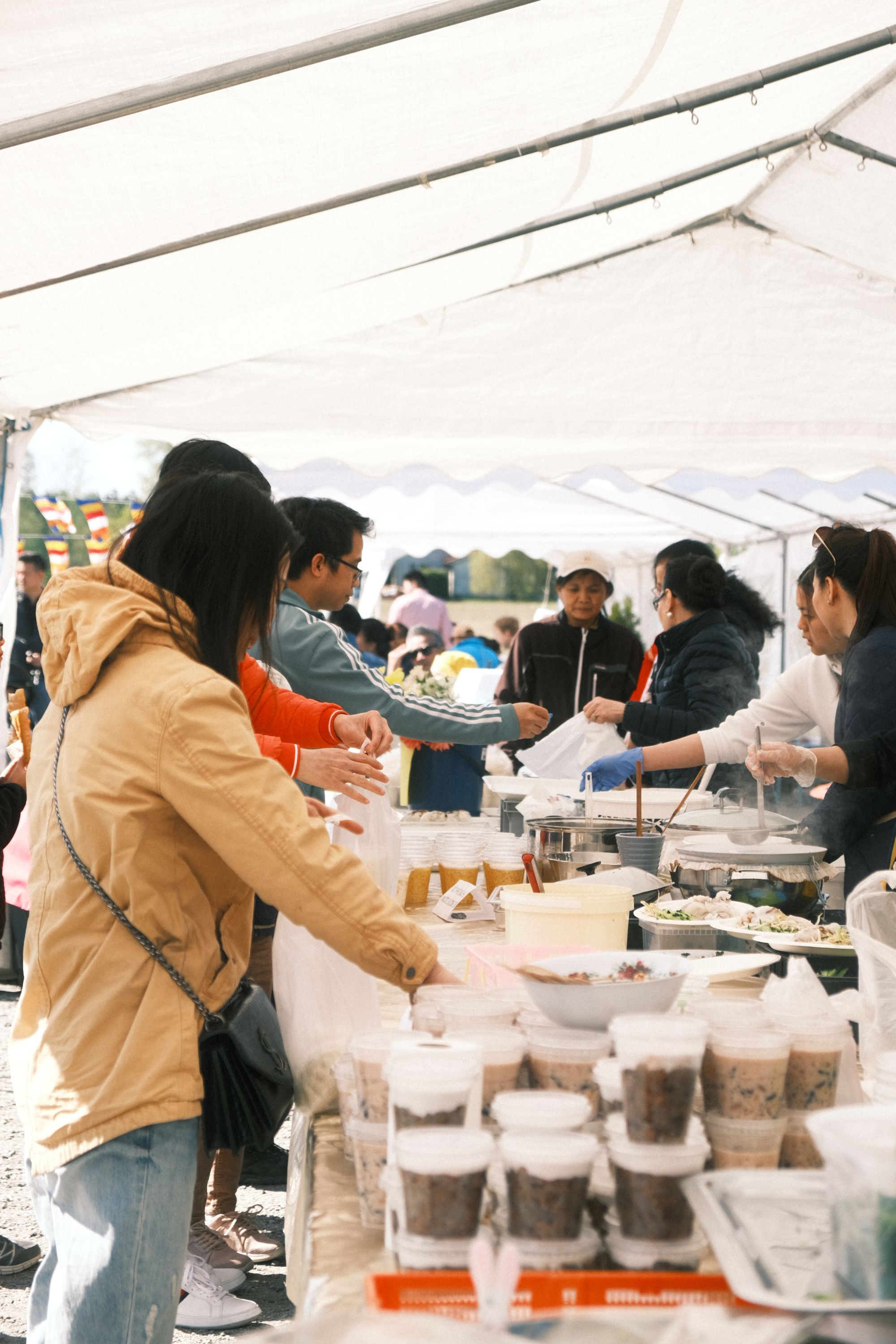 Buddhist Exhibition
The Buddhist exhibition will consist of three main parts:
- East Asian Buddhism exhibition
- 25 years history of Lien Tam Buddhist Monastery construction
- Jan Olof Mallander 's big collection of Buddhist arts. Jan Olof is an important Finnish art collector and artist who introduced vegetarian food, eastern philosophy and Buddhism to Finns. He has an admirable collection of Buddhist arts.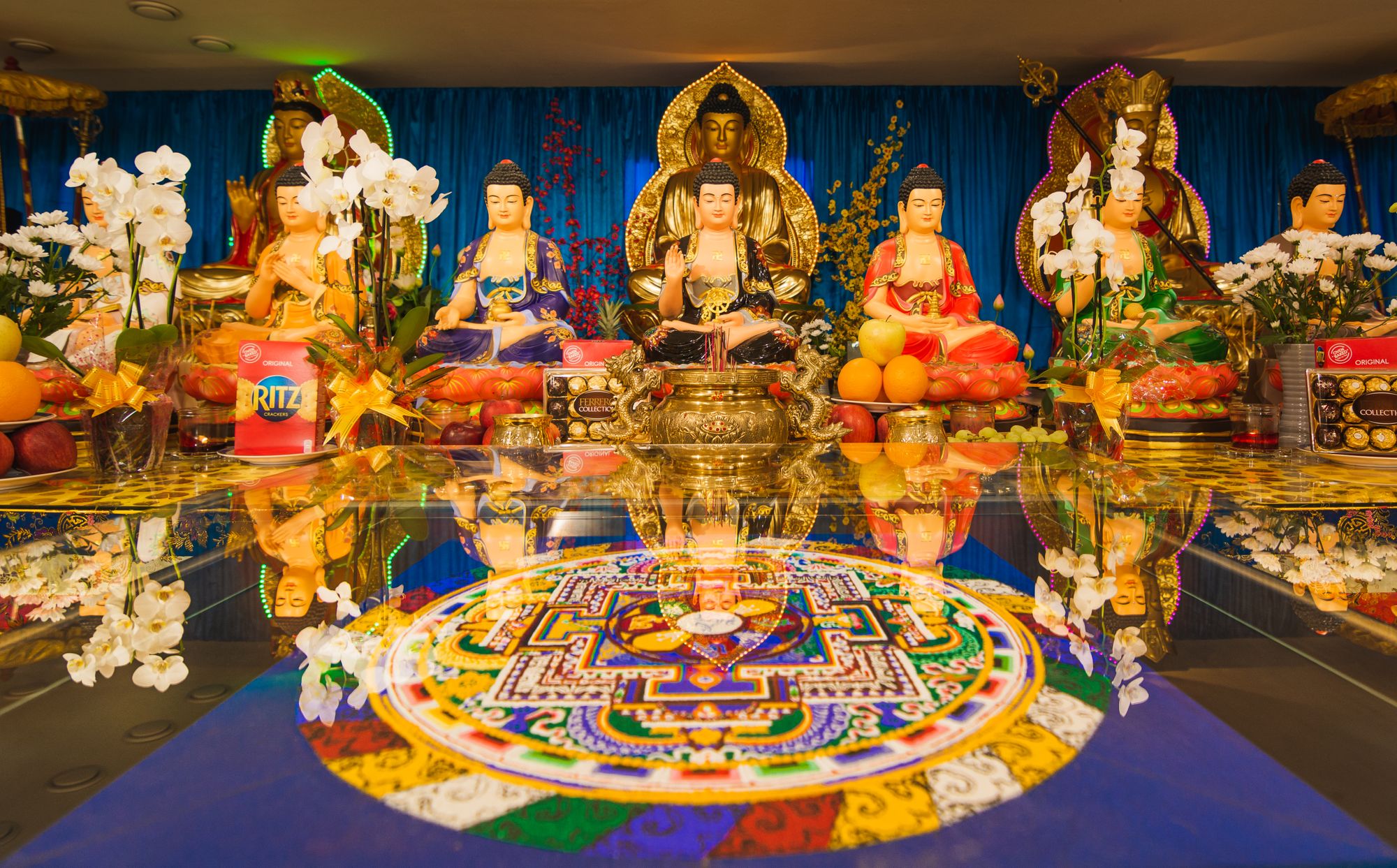 Tea ceremony
In this event, for the first time, we have invited some tea artists to come and perform tea ceremony in front of visitors. Come, meditate, and try the variety of teas from different regions of the world with us.
The 60th Continuation Day of our great master
This year event also marks the 60th Continuation Day of Ven. Thich Hanh Bao, our great master, who has dedicated his life to learn, practise and deliver Buddha's Dharma to devotees around the globe. His commitment can be seen clearly in the community and charity activities, annual inter-religion dialogue for peace forums,  teaching and retreats organizing activities and espcially the establishment of Lien Tam Monastery. In this Vu Lan festival, his students and dovotees will have small meaningful activities to show great gratitude to master Ven.Thich Hanh Bao. Come and meet our master.
The 25th birthday of our community
Even though the monastery's construction only started in 2005, the official Association had been established already in 1998, and it was the first Buddhist religious community in Finland. We wish to take advantage of this year Vu Lan festival to celebrate the 25th birthday of the Association and to give big thanks to all members, especially the members of the management team.
Hungry Ghost offering
Hungry ghosts offering ceremony is part of the Vu Lan festival and is performed by Buddhist monks, who pray for all sentient beings to be well and happy. Through the ceremony, we also pray for the world peace and everyone's inner peace.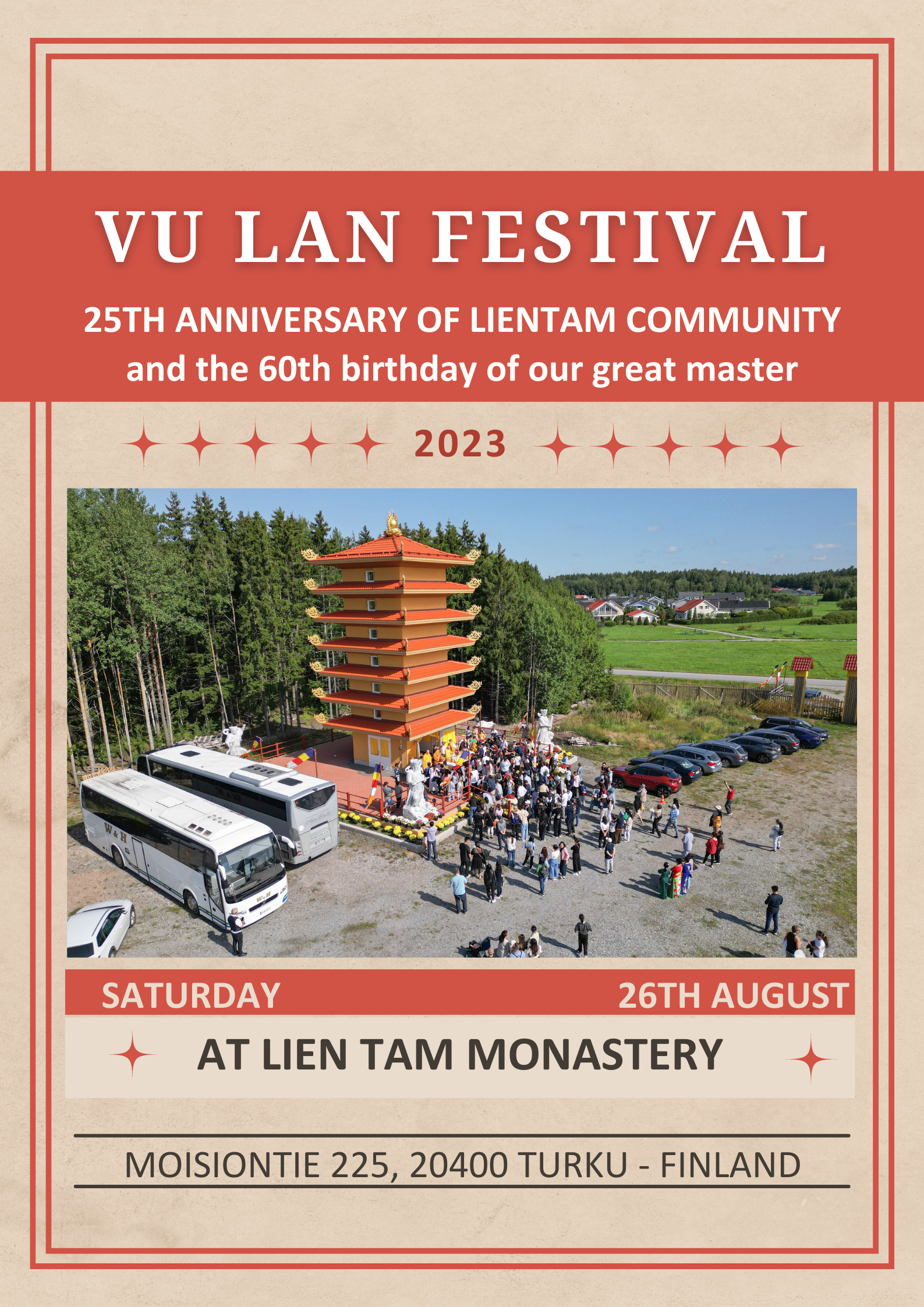 Cultural Performance Show
We have invited Manh Quynh, one of the most famous Vietnamese singers from the US to come and sing. In addition to that, there are other Vietnamese and Finnish amateur and professional artists who will also participate in the show.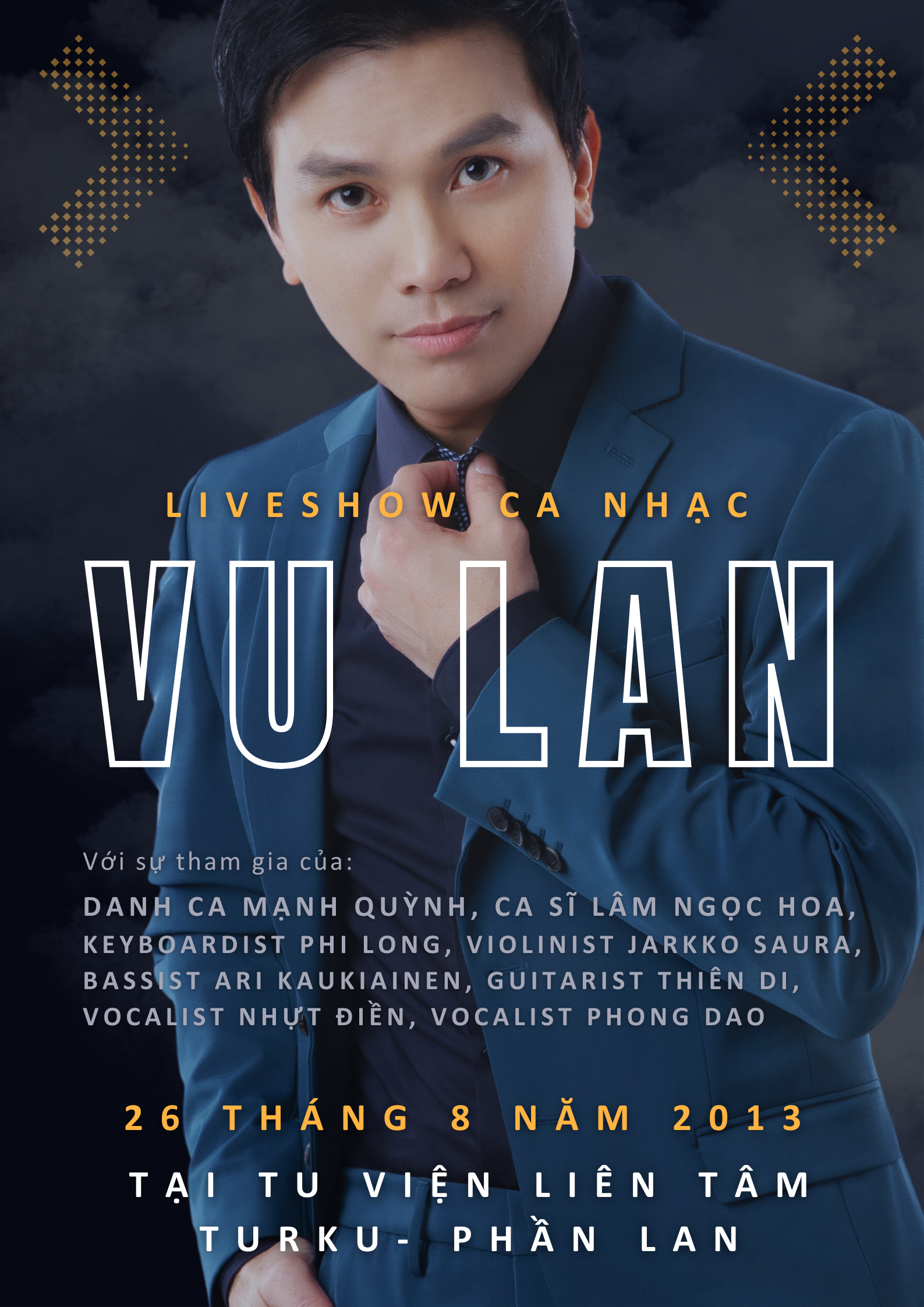 FREE BUFFET
Yes, no need to worry about foods and drinks during the event, we will serve you with great Asian/Vietnamese vegetarian lunch buffet with a variety of selection. It is free, it is excellent. In addition to this, we have a lot more street foods including noodles, special cakes, snacks, teas for sales in the market square during the event. Don't worry, they are sold at affordable prices.
FREE BUS FROM SEVERAL CITIES
You wish to join the event but don't know how to get there?  No worry,  we offer free bus service from different cities round Finland , which bring you to our monastery and bring you back to your home city at scheduled time table. Example,  cities like Helsinki, Vantaa, Espoo, Tampere, Kokkola, Narpio, Jyvaskyla, Joensuu are those where our free bus services are.
You can register at: https://lientam.fi/bus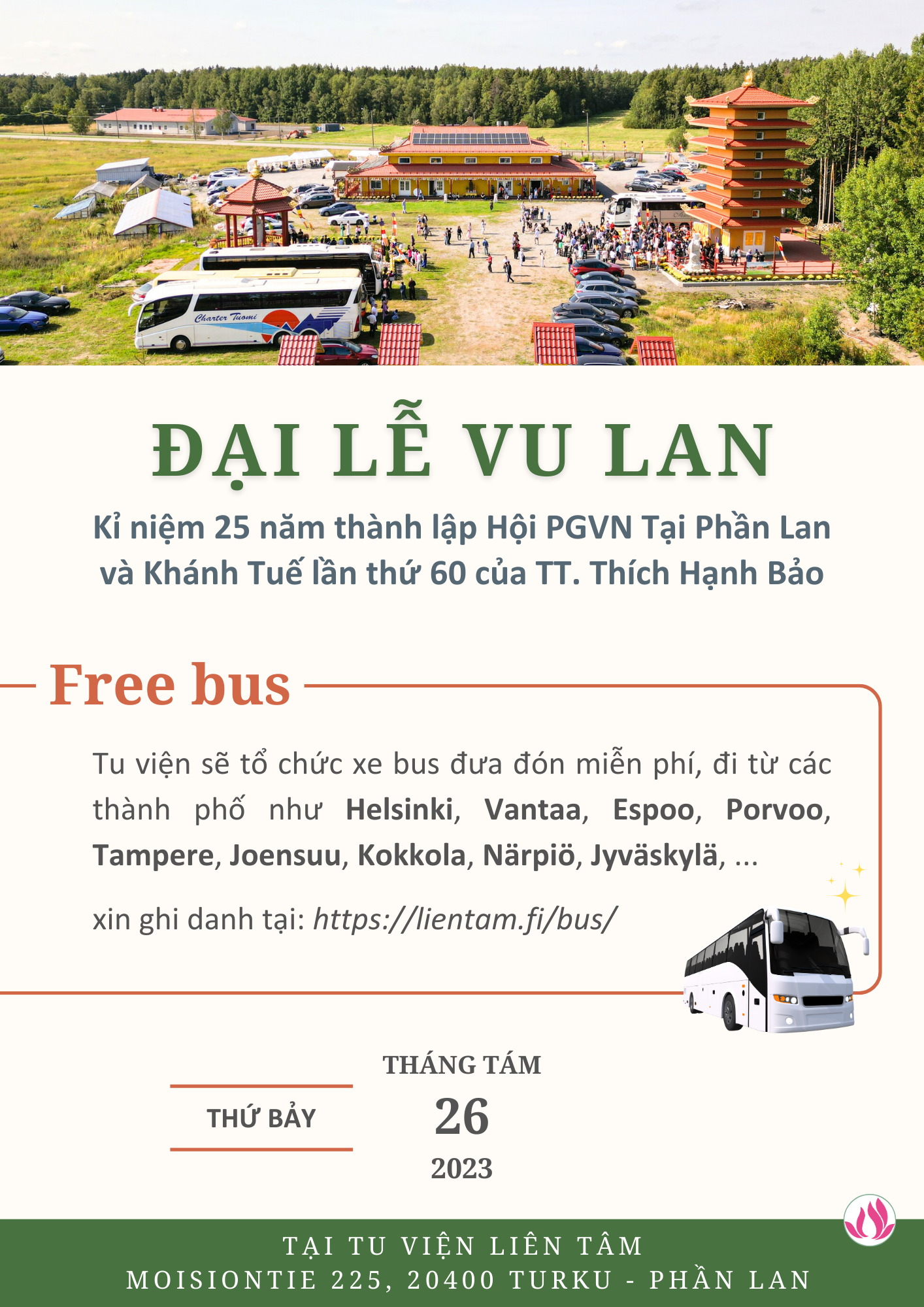 WE WISH TO SEE YOU AT LIEN TAM MONASTERY! THANK YOU VERY MUCH!
For more information, you can contact: [email protected]